Tintinnabuli
Composers: Arvo Part, Jeroen van Veen
Artist Jeroen van Veen piano, Joachim Eijlander, cello
Format 1CD
Cat. number 96480
Release Jan 2023
Arvo Pärt (1935)

1. Fratres (1980) 12:45
Joachim Eijlander (cello) & Jeroen van Veen (piano)
2. Für Alina (1976) 3:23
Jeroen van Veen (piano)
3. Variationen zur Gesundung von Arinushka (1977) 5:57
Jeroen van Veen (piano)
4. Pari Intervallo (1976) 5:54
Sandra & Jeroen van Veen (piano four hands)
5. Ukuaru Valss (1973/2010) 2:48
Jeroen van Veen (piano)
6. Für Alina (1976) extended version 14:31
Jeroen van Veen (piano)
7. Für Anna Maria (2006) 1:20
Jeroen van Veen piano
8. Spiegel im Spiegel (1978) 10:21
Joachim Eijlander (cello) en Jeroen van Veen (piano)

Jeroen van Veen ( 1969)

9. Pärtomania (2021) 22:17
Joachim Eijlander (cello) en Jeroen van Veen (piano)

complete playing time disc 79:25

Jeroen van Veen, piano
Sandra van Veen, piano

Joachim Eijlander, cello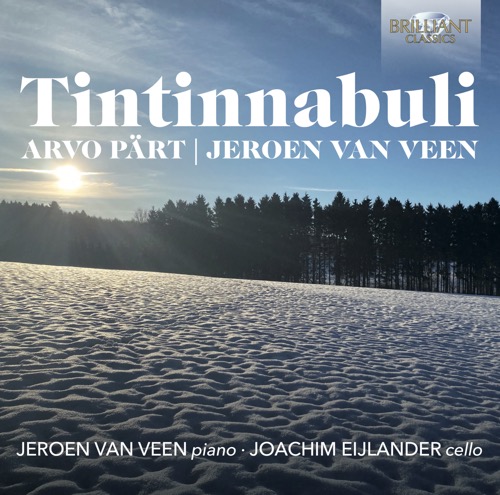 Tintinnabuli

Arvo Pärt / Jeroen van Veen

Arvo Pärt was born in 1935 in Paide, Estonia. After studies with Heino Eller's composition class in Tallinn, he worked from 1958 to 1967 as a sound engineer for Estonian Radio. In 1980 he emigrated with his family to Vienna and then, one year later, travelled on a DAAD scholarship to Berlin. As one of the most radical representatives of the so-called 'Soviet Avant-garde', Pärt's work passed through a profound evolutionary process. His first creative period began with neo-classical piano music. Then followed ten years in which he made his own individual use of the most important compositional techniques of the avant-garde: dodecaphony, composition with sound masses, aleatoricism, collage technique. Nekrolog (1960), the first piece of dodecaphonic music written in Estonia, and Perpetuum mobile (1963) gained the composer his first recognition by the West. In his collage works 'avant-garde' and 'early' music confront each other boldly and irreconcilably, a confrontation that attains its most extreme expression in his last collage piece Credo (1968). But by this time all the compositional devices Pärt had employed to date had lost all their former fascination and begun to seem pointless to him. The search for his own voice drove him into a withdrawal from creative work lasting nearly eight years, during which he engaged with the study of Gregorian chant, the Notre Dame School and classical vocal polyphony.

The music of Arvo Pärt is very popular nowadays. It has attracted the attention of many people around the world and it is played in the most eminent concert halls. His music appears to be both, ancient and modern, thus many have attempted to track down its origins. Some of the styles in which Pärt"s music has been described are: minimalism, spiritualism, holy minimalism, and sacred music. These style tags are correct to a degree in which Pärt"s music is recognized in the American minimalist movement of 1960s. The usage of few notes and much repetition should place him in the same category with American minimalists represented by Terry Riley, Steve Reich and Philip Glass, however, neither that is fitting enough to define his style completely. His minimalistic approach does not come from simple and hypnotic repetition, which characterizes American minimalism, but from the search for new tonality without standard functions that were dominant in Classicism and Romanticism. Dutch composer Simeon ten Holt was always talking about 'the rebirth of tonality after it's death'. In a way this is almost the same that Arvo Pärt did. Nevertheless, Pärts music does contain both traditional minimalism and elements of medieval renaissance music intertwined with the technique he created called "tintinnabuli" (Latin for 'little bells'). It has defined his work right up to today. The 'tintinnabuli principle' does not strive towards a progressive increase in complexity, but rather towards an extreme reduction of sound materials and a limitation to the essential; in other words minimalism with maximum effect.

Für Alina (1976) showcases the composer's use of bell-like sounds, or `tintinnabuli.' The listener perceives two musical lines, which while engaged in a slow progression, never quite embrace each other. The space between the notes and the structure is very minimalistic. By now, there have been several attempts to label the Tintinnabuli style such as "new simplicity", "minimal music", etc. Tintinnabuli is a new phenomenon, which is difficult to analyze and classify by way of existing musicological standards. With his compositions, Pärt has brought about a paradigm-shift in modern music, and the attempt to analyze this shift has in turn given rise to its own process of creative discovery. The score of Für Alina (1976) is only two pages long. It gives the performer the possibility to repeat and play the same material in different octaves. The left hand uses only notes from the triad of b minor. The right hand counterpoints with separate notes in 'tension and relief'. The build up is as easy as it sounds: adding up notes in the grouping; first two, three, four and building up to eight notes and diminishing back to two. The only notation related to tempo is Ruhig, erhaben, in sich hineinhorchend, which roughly translates as peacefully, in an elevated and introspective manner. There is no time signature. The result is a changing landscape that travels through time. I decided to record a long version and a shorter one, based on the knowledge that Pärt himself played it sometimes a couple hours! The Variationen zur Gesundung von Arinuschka were written in 1977 and have the same spacy atmosphere. The four page long composition is written in a minor. Again there's no time signature but the music is written in 4/4 time. The open structure in which composition is build creates an almost healing and spiritual atmosphere. Another composition method from Minimalism can be seen in here; the shifting patterns, as we know them from the early music by Philip Glass and Steve Reich. The steady pulse and serene mood make this piece to one of my favourites for a long time. I have recorded is several times and each time I'm stunned by it's beauty. Ukuaru valss was written in 1973 and completed in 2010. The tempo markings are Mäßig oder temperametvoll. The Walz is in a rather slow tempo, written in a ¾ in A major. The just most recent written piece for piano is Für Anna Maria (2006). In my Minimal Piano Collection I already recorded the Hymn to a Great City (1984/2004) for two pianos, but I discovered another piece: Pari intervallo (1976/2008). Written in the same year as his famous Für Alina with a double performance option: for piano four hands or for two pianos. The piece is written in a 4/4 (Larghetto) and in the E flat minor. With this piece we are getting in the area where pieces get many different versions in which they can appear: Pari intervallo is available for organ, for four recorders, for clarinet, trombone and string orchestra, and also in a version for two pianos.

During the years I have performed the music by Arvo Pärt a lot. In a way it is tricky, since the material is thin and vulnerable. But it is also inspiring to play. When we were in the first lockdown caused by the Covid pandemic, I decided to sit down and write a piece for piano and my dear friend Joachim Eijlander, who is an excellent cellist. The source materials are techniques that Pärt also used in his compositions, slowly climbing and descending scales, dissonant and consonant in balance, a sereen and slow atmosphere with a slowing down feeling. Slow music; in a way using the piano and the cello in a deep and sonore register. The result is a 22 minute long new work.
Jeroen van Veen



Joachim Eijlander (1975) performs as soloist and chambermusician in Europe, Asia and the United States. Joachim has performed alongside ensembles and musicians including the Borodin quartet, Lisa Larsson, Robert Holl, Solomiya Ivakhiv, Klara Wurtz, Inon Barnatan, Karl Leister and Olivier Patey. Joachim Eijlander has collaborated with composers Henri Dutilleux, György Kurtag, Sofia Gubaidulina, Louis Andriessen and Joey Roukens.

In 2015 he recorded the cellosuites by J.S. Bach and in 2017 the caprices by A. Piatti and J. dall'Abaco on cd for the label Navis Classics. In 2020, the newest album "Dark Fire", with music by A. Saygun, a. Tsintsadze and G. Cassadó, was published by label TRPTK. The albums were highly praised in the international press. Joachim was a regular guest in the international music festivals of Sitka Alaska, El Paso Texas, Prussia Cove (GB), Schleswig-Holstein and Mecklenburg-Vorpommern (Germany). He performed in halls such as Philharmonie and Konzerthaus Berlin, Tonhalle Zürich, Concertgebouw Amsterdam, Philadelphia Chambermusic society, and in New York. Joachim is Cello professor at the Conservatoire royal national supérieur de musique de Namur, Cello professor at Codarts Rotterdam, representative of the cello and double bass sections at Codarts as well as teacher at the Dutch Stringquartet Academy. Joachim has taught as a guest teacher at Indiana University, Texas University, Kansas University, Milwaukee Conservatoire, Oklahoma University, the Ljubljana Conservatoire in Slovenia and at international festivals.
Joachim was founder of the internationally acclaimed Rubens Quartet, which existed from 2000 until 2014. The quartet won many international prizes and toured extensively in Europe and the USA.
Joachim Eijlander plays on an exceptional Italian cello made in Rome in 1755 by an anonymous master.

"...great sense of fantasy and eloquence"
"...detailed but informed, instinctive response that allows for
spontaneity"
The Strad magazine, januari 2016

www.joachimeijlander.com


Jeroen Van Veen (1969) started playing the piano at the age of 7. He studied at the Utrecht Conservatory with Alwin Bär and Håkon Austbö. In 1993 he passed the Performing Artists' Exam. Van Veen has played with orchestras conducted by Howard Williams (Adams), Peter Eötvös (Zimmermann), Neal Stulberg (Mozart & Bartok) and Robert Craft (Stravinsky). He has played recitals in Europe, Russia, Canada & the USA. Van Veen attended master classes with Claude Helffer, Roberto Szidon, Ivan Klánsky and Leonid Hambro. He was invited to several festivals: Reder Piano Festival (1988), Festival der Kunsten in Bad Gleichenberg (1992), Wien Modern (1993), Holland Dance Festival (1998, 2010) Lek Art Festival (1996-2009). Van Veen recorded for major Radio- and Television companies. In 1992, Van Veen recorded his first CD as Piano duo Van Veen. In 1995 Piano duo Van Veen made their debut in the United States. They were prize-winners in the prestigious 4th International Murray Dranoff Two Piano Competition in Miami, Florida. After this achievement they toured the United States and Canada many times. The documentary "Two Pianos One Passion" (nominated with an Emmy Award 1996) portrays them as a duo. In 2016 Van Veen was awarded with the NPO Radio 4 2016 Award, for his efforts and promotion of classical music beyond the concert halls. His lay-down (ligconcert) concerts were praised as an example how classical music can attract new audiences.
The various compositions by Van Veen may be described as Minimal Music with different faces, Crossovers to Jazz, Blues, Soundscape, Avant-Garde, Techno, Trance and Pop Music. His Minimal Preludes for piano, and his NLXL are some of his most played pieces worldwide. His latest Minimal Piano Concerto Continuum was a great success. In 2015 he premiered his Incanto nr 2 in the Amsterdam Concertgebouw with Sandra van Veen. His minimal preludes are being performed worldwide and currently Van Veen is working on Book VII and VIII (numbers 80 -110).
His last composition, Dutch Delight for carillon, was commissioned by 42 comunitties that were connected to the birth of the Netherlands in 1572.
Currently Mr. Van Veen is director of Van Veen Productions, Chairman of the Simeon ten Holt Foundation, Pianomania Foundation and artistic director of several music festivals. He is also active as Overseas Artistic Director in the Murray Dranoff Two Piano Competition based in Miami. Over the last 25 years Van Veen recorded more than 200 CD's and 5 DVD's, mostly for Brilliant Classics. His dicography includes Adams, Einaudi, Glass, JacobTV, Minimal Piano Collections, Nietzsche, Nyman, Pärt, Reich, Riley, Satie, Sakamoto, Stravinsky, Tiersen, Ten Holt, Van Veen, Yiruma and many others.
Van Veen is also praised for his productivity some say, 'the man who records faster than his shadow'.


"Dutch pianist and composer, Jeroen van Veen, the leading exponent of minimalism today", Alan Swanson (Fanfare)
"Jeroen van Veen has for many years been a powerhouse in the piano world of the Netherlands and beyond", Dominy Clements (Musicweb-International)
"The Maximal Minimalist Missionary", Raymond Tuttle (Fanfare)

www.jeroenvanveen.com



DDD
Microfoons: DPA 4006A
Piano: Yamaha Grand Piano C7 , Steinway D
Produced by: Van Veen Productions for Brilliant Classics
Photo Jeroen van Veen: David de Haan
Photo Joachim Eijlander: Maarten van Apeldoorn
Cover photo: Jeroen van Veen
Liner Notes: Jeroen van Veen
Publishers: Edition Schott, Van Veen Productions
Executive Producer: Jeroen van Veen Recording and Mastering: Pianomania
Software: Pro Tools, Logic & Sequoia
Recordings: Fratres, Spiegel im Spiegel & Pärtomania, 22-3-2022, Zeeuwse Concertzaal, Middelburg. Recording: Jakko van de Heijden (Steinway D)
Other Recordings: Studio I, Culemborg (Yamaha C7), 24-3-2013

CD No: 96480
EAN Code: 5028421968407