Solo Piano Music, Philip Glass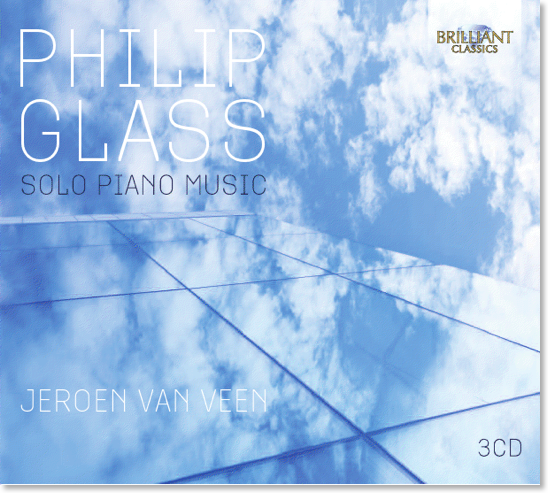 Philip Glass
Solo Piano Music
Jeroen van Veen, piano
3 CD box

Brilliant Classics 9419



The Hours, Mad Rush, Opening, Metamorphosis e.a.

Release: Jan 2013


Jeroen van Veen – piano
A new compilation of the music for piano solo by Philip Glass, icon of minimalism.
In his piano music, Glass presents structures of repeated patterns which slowly and gradually, seemingly unconsciously, change in rhythm, speed or form, creating a fascinating sound landscape of slowly shifting colours and patterns.
Dutch pianist Jeroen van Veen is a champion of the minimalist piano school. His earlier set of minimalist piano works (9171) has won rave reviews in the international press: "The leading exponent of minimalism (Fanfare)", "10/10" performance/recording, Classicstoday.
Accepted onto the early admissions programme of the University of Chicago, Philip Glass graduated aged just nineteen with a degree in Mathematics and Philosophy, practising the piano in his spare time. Subsequently studying at the Juilliard School, Glass's name has since become synonymous with the minimalist style. His film compositions have earned him a Golden Globe as well as three Academy Award nominations. This selection of pieces showcases Glass's music for solo piano, with each of the works baring the hallmarks of minimalism. Among the pieces featured in the collection is Metamorphosis, a set of
five variations that evolve over the course of the entire work to create a stirring final movement. Also present are extracts from the soundtrack of Stephen Daldry's film The Hours, as well as 'Truman Sleeps' from The Truman Show (which earned Glass a Golden Globe award for 'Best Original Score').
The collection ends with the 'Trilogy' Sonata, containing piano transcriptions of Glass's three 'portrait' operas: Einstein on the Beach, Satyagraha and Akhnaten. Dutch pianist and composer Jeroen Van Veen studied at the Utrecht Conservatory and has played with many orchestras throughout Europe and the USA, under renowned conductors such as Howard Williams, Peter Eötvös and Robert Craft. An accomplished recitalist, van Veen has also appeared at festivals including the Reder Piano Festival and the Festival der Kunsten (Bad Gleichenberg). His compositional style is closely related to minimalism, and contains elements of jazz, blues and pop music.
prelisten here