Preisner, Piano Music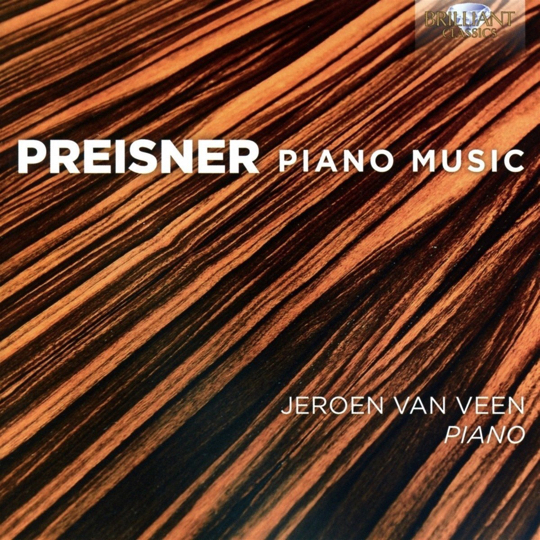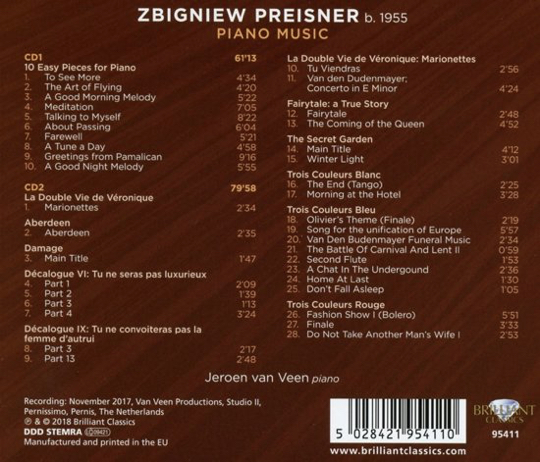 Composer: Zbigniew Preisner
Title: Piano Music
Performer: Jeroen van Veen
BC 95411
Disk: 1

1. Nr. 1 To see more

2. Nr. 2 The art of flying

3. Nr. 3 A good morning melody

4. Nr. 4 Meditation

5. Nr. 5 Talking to myself

6. Nr. 6 About passing

7. Nr. 7 Farewell

8. Nr. 8 A tune a day

9. Nr. 9 Greetings from Pamalican

10. Nr. 10 A good night melody
Disk: 2

1. Marionettes

2. Aberdeen

3. Main title

4. 1. Ohne Satzbezeichnung

5. 2. Ohne Satzbezeichnung

6. 3. Ohne Satzbezeichnung

7. 4. Ohne Satzbezeichnung

8. 3. Ohne Satzbezeichnung

9. 13. Ohne Satzbezeichnung

10. Tu viendras

11. Concerto e-moll "Van den Dudenmayer"

12. Fairytale

13. The coming of the queen

14. Main title

15. Winter light

16. Tango: The end

17. Morning at the hotel

18. Olivier's theme (Finale)

19. Song for the unification of Europe

20. Van den Budenmayer funeral music

21. The battle of Carnival and Lent II

22. Second flute

23. A chat in the underground

24. Home at last

25. Don't fall asleep

26. Fashion show I (Bolero)

27. Finale

28. Do not take another man's wife I

Known above all through his collaborations with the film-maker Kryszystof Kieslowski, Zbigniew Preisner is one of the most played and broadcast composers of our time. Yet there are few audio-only recordings of his music presently available. Thus the new album from the prince of the Minimalist piano, Jeroen van Veen, fills a significant gap in the market.
CD1 contains the set of Ten Easy Pieces for piano which are already popular as scores with countless student and amateur pianists. However only one recording has been made, not widely available, and this new Brilliant Classics recording will introduce many listeners to the uniquely haunting and inspiring soundworld of Preisner. Although his trademark melodies are tinged with melancholy, several of the Easy Pieces are outgoing and exuberant such as To See More and The Art of Flying.
CD2 concentrates on piano arrangements of the film music which won Preisner his reputation. There are themes and extensive excerpts here from Kieslowski's Décalogue and the Trois Couleurs trilogy, starring Juliette Binoche, Julie Delpy and Jean-Louis Trintignant, through which millions of cinema-goers fell in love with Preisner's music. Also included are the main themes from three more recent films, The Double Life of Véronique, Fairytale and The Secret Garden, all of them haunting and bittersweet.
The album is the latest in the hugely successful series of minimalist piano music albums made by Jeroen van Veen for Brilliant Classics. Previous best-sellers include music by Arvo Pärt (BC95053), Philip Glass (BC9419), Michael Nyman (BC95112), Lodovico Einaudi (BC94910) and Yann Tiersen (BC95129), composer of the music for Amélie. His recordings of Satie have been cited as reference versions by Classics Today, which acclaimed his 'outstanding musicianship'.
Like Zbigniew Preisner (born in 1955) is Poland's leading film music composer and is considered to be one of the most outstanding film composers of his generation. For many years Preisner enjoyed a close collaboration with the director Krzysztof Kieslowski, his music for the films No End, Dekalog, the Double Life of Veronique, Three Colours White and Three Colours Red have brought him international acclaim. He was awarded a Silver Bear (Berlin Film Festival) and 3 Césars (French Film Academy). He is praised for composing film music that creates a deeper understanding and additional dimensions for the story.
This 2CD set features original piano music and music from Preisner's famous film scores, such as The Art of Flying, Fairytale, The Secret Garden Trois Couleurs Blanc and many more.
Played by Jeroen van Veen, piano solo, who previously issued hugely successful recordings of film music by Yann Tiersen (Amélie) and numerous albums with minimal music (Adams, Nyman, Richter, Glass).