The Best of Minimal Piano Music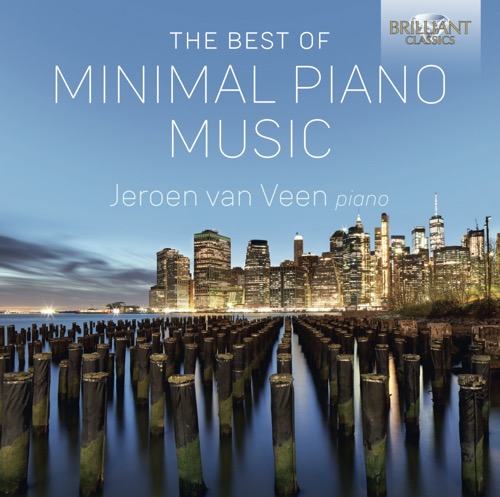 Composer: Arvo Pärt, Ludovico Einaudi, Philip Glass, e.a.
Artist Jeroen van Veen piano
Format 6 CD
Cat. number 96207
EAN code 5028421962078
Release October 2020
CD 1
01 Philip Glass Opening from Glassworks 08:54
02 Philip Glass Metamorphosis I 07:00
03 Philip Glass Metamorphosis II 06:55
04 Philip Glass Metamorphosis II 04:22
05 Philip Glass Metamorphosis IV 05:52
06 Philip Glass Metamorphosis V 06:06
07 Philip Glass Mad Rush 15:12
08 Philip Glass The Hours 07:13
09 Philip Glass Modern Love Waltz 04:57
10 Philip Glass Truman Show 02:10
11 Philip Glass Etude XI in c 08:29
Playing time 77:19
CD 02
01 John Adams China Gates 05:54
02 John Adams Phrygian Gates 28:14
03 Simeon ten Holt Aforisme II* 04:19
04 Simeon ten Holt Canto Ostinato, first edition* 25:38
05 Jacob ter Veldhuis The Body of Your Dreams 08:40
06 Jacob ter Veldhuis On & Off Situation Blues 01:53
07 Jacob ter Veldhuis Sound 01:06
Playing time 75:49
CD 03
01 Yann Tiersen Comptine d'un autre été, l'après-midi 02:30
02 Yann Tiersen Le Moulin 03:34
03 Yann Tiersen La Dispute 02:13
04 Yann Tiersen Sur le Fil 05:09
05 Yann Tiersen La valse d'Amelie 02:35
06 Michael Nyman Big my Secret 03:57
07 Michael Nyman Lost and Found 03:12
08 Michael Nyman The heart asks pleasure first 04:18
09 Arvo Pärt Für Alina* 18:44
10 Arvo Pärt Variationen zur Gesundung von Arinuschka05:56
11 Arvo Pärt Fratres ** 11:44
12 Arvo Pärt Spiegel im Spiegel ** 09:10
13 Riuchi Sakamoto Bibo no Aozora *** 06:36
** with Douw Fonda, Cello
*** with Carel Kraayenhof, Bandoneon
Playing time 79:46
CD 04
01 Erik Satie Gymnopédie I 04:46
02 Erik Satie Gnossiennes I 05:27
03 Erik Satie Gnossiennes II 02:46
04 Erik Satie Gnossiennes III 04:05
05 Erik Satie Gnossiennes IV 04:03
06 Jeroen van Veen Minimal Prelude 32 07:40
07 Jeroen van Veen Minimal Prelude 18, Lego 09:33
08 Jeroen van Veen Minimal Prelude 15 02:42
09 Jeroen van Veen Minimal Prelude 23 07:02
10 Jeroen van Veen Minimal Prelude 48 08:55
11 Jeroen van Veen Minimal Prelude 50 06:26
12 Jeroen van Veen Minimal Prelude 61 06:39
13 Jeroen van Veen Piano concerto, II Mov. 08:46
Playing time 78:57
CD 05
01 Yiruma River Flows in You 03:30
02 Yiruma May Be 03:53
03 Yiruma Kiss the Rain 03:52
04 Yiruma Yellow Room 03:49
05 Yiruma Destiny of Love 03:56
06 Zbigniew Preisner To See More 04:34
07 Zbigniew Preisner The Art of Flying 04:18
08 Zbigniew Preisner A Good Morning Melody 05:19
09 Zbigniew Preisner A Tune a Day 04:56
10 Riuchi Sakamoto Merry Christmas Mr. Lawrence 04:31
11 Riuchi Sakamoto The Sheltering Sky 05:12
12 Riuchi Sakamoto Seven Samurai - Ending Theme 05:40
13 Riuchi Sakamoto The Last Emperor II 05:44
14 Riuchi Sakamoto Thousand Knives 05:56
15 Max Richter Andras 04:30
16 Max Richter H for New England 01:56
17 Max Richter The Family 02:42
18 Max Richter Written On The Sky II 05:18
Playing time 79:46
CD 6
01 Ludovico Einaudi Una Mattina, long version 09:05
02 Ludovico Einaudi Le Onde 04:47
03 Ludovico Einaudi I Giorni 06:52
04 Ludovico Einaudi Primavera 07:36
05 Ludovico Einaudi Nuvuole Bianche 06:33
06 Ludovico Einaudi Passaggio 05:23
07 Ludovico Einaudi Seven Days Walking, Gravity 06:37
08 Ludovico Einaudi Seven Days Walking, A Sense of Symmetry 02:31
09 Ludovico Einaudi Seven Days Walking, Cold Wind 08:43
10 Ludovico Einaudi Seven Days Walking, Low Mist 06:35
11 Ludovico Einaudi Seven Days Walking, The Path of the Fossils10:05
12 Ludovico Einaudi The Tower 03:48
Playing time 78:43
Recording dates
CD 1, track 1-10 BC 8551, October 23rd-28th 2006, Barbara Church, Culemborg
CD 1, track 11 BC 95563, February, 27th & 28th, 2017, Studio II, Pernissimo, Pernis
CD 2, track 1 & 2 BC 95388, December 2016, Studio II, Pernissimo, Pernis
CD 2, track 3 & 4 NEW: April 22nd & April 23rd 2020, Studio IV, Steffeln, Germany
CD 2, track 5,6,7 BC 94873, 2012 & 2013, Studio I, Culemborg
CD 3, track 1-10 NEW: April 22nd & April 23rd 2020, Studio IV, Steffeln, Germany
CD 3, track 11 & 12 BC 94775, March 2014, Zeeuwse Concertzaal, Middelburg
CD 3, track 13 April 2020, recorded coronaproof by Rimmert van Lummel
CD 4, track 1-12 NEW: April 22nd & April 23rd 2020, Studio IV, Steffeln, Germany
CD 4, track 13 BC 95661, June 2015, Beauforthuis, Austerlitz
CD 5, track 1-5 BC 95069, June 24th & 26th 2014, Studio I, Culemborg
CD 5, track 6-9 BC 95411, November 2017, Studio II, Pernissimo, Pernis
CD 5 track 10-14 BC 95389, May 12th -26th 2019, Studio IV, Steffeln, Germany
CD 5, track 15-18 BC 95390, July 2016, Studio II, Pernissimo, Pernis
CD 6, track 1-12 NEW: April 22nd & April 23rd 2020, Studio IV, Steffeln, Germany
Booklet
Best of Minimal Piano Music
From the American underground culture of the late 1950s to blockbuster movies of the twenty-first century: minimal music has made a spectacular journey. This collection of cd's explores minimalism at its most melodious and varied.
The music style we now call minimal arose around 1960 in New York and was part of a much broader artistic flow, in which artists were looking for a pure, direct form of creation. In their paintings, poems and music they did not describe, imitate or comment on the real world. On the contrary: their art had a reality of its own. For music, this meant a focus on sound itself, not on a narrative or on fixed musical codes of conduct.
With pieces by Satie, Glass, Richter, Yiruma and many others, this collection offers music from inspirators to minimalism, as well as standard-bearers of the genre, but also from those inspired by it. Together, these composers show the enormous bandwith one can achieve while concentrating on a small detail. As pianist Jeroen van Veen says: 'I enjoy finding silence in music. Composers like Arvo Pärt and Erik Satie explore infinity and emptiness. But the counterpart, for instance the "fuller", more complex music by John Adams and Jacob ter Veldhuis, is just as important.'
One of the key pieces for Van Veen, one he performed on almost all continents, is Simeon Ten Holts Canto Ostinato. For this collection, he recorded a version not often heard: the primal composition, the way Ten Holt played it himself on just one piano, instead of the more usual four instruments. 'It is a very malleable piece. By continuously applying small new nuances in the repetitions you never play the same thing again. That principle I administer in a lot of minimal music. In the course of the years I arrive at a kind of "best functioning" form, but flexibility remains determinative. A composition never turns out the same way it did earlier. In that way, a cd recording is just a temporary structure.' Van Veen plays with this idea in his Minimal prelude 18: Lego. 'It is compiled from small fragments, bricks one can click together at ones own discretion. My recording is just one of many possible buildings.' Not by coincidence, this cd-box contains a range of pieces that are also bestsellers in the form of sheet music. Zbginiew Preisner, Yiruma and Yann Tiersen created melodies people play at home, in school or even train stations all over the world.
On The best of minimal piano music you will find a lot of pieces used in, or written especially for cinema. Composers like Michael Nyman, Riuchi Sakamoto and Yann Tiersen reached millions of listeners with their music for movies like The piano, The sheltering sky and Le Fabuleux Destin d'Amélie Poulain. Jeroen van Veen: 'All these soundtracks gratefully use the principle of repetition, helping the brain to create images more easily. This music literally gives room.'
Room one can use in many ways. Philip Glass for instance intended his Glassworks especially as a 'walkman-suitable work', to be listened to during a bus ride or a workout. The workout itself is subject of Jacob ter Veldhuis' Body of your dreams, which, by the way, lends itself perfectly for getting in shape. 'Three thousand muscle contractions!' in just eight minutes. Yiruma's River flows in you became a wedding evergreen. People use Ludovico Einaudi's Seven days walking to create their own (mental as well as physical) itinerary. Van Veen: 'People use my online streams as a background for working or studying.' Or relaxing, of course, as many listeners find ultimate peace surrendering to their favourite minimal music.
© Vrouwkje Tuinman