Piano & Hang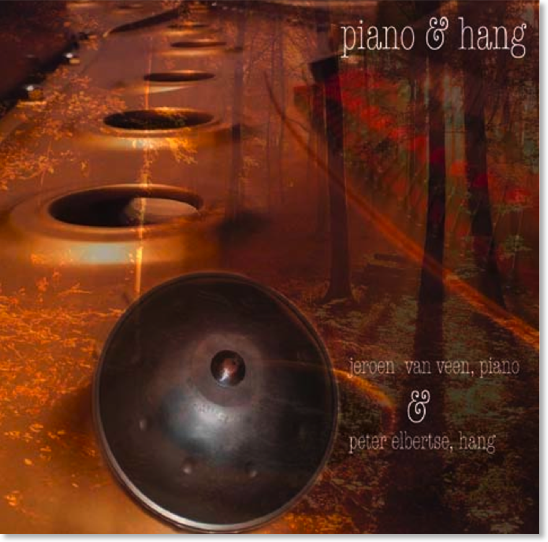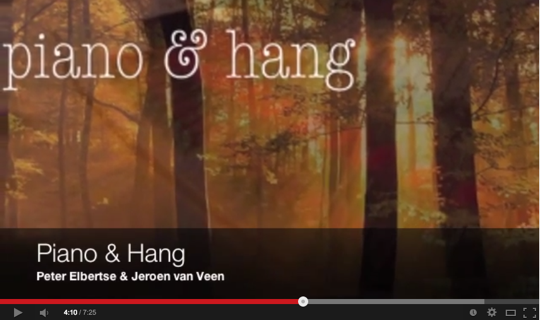 Composer: Elbertse & Van Veen
Performers: Jeroen van Veen, piano & Peter Elbertse, hang
Total playing time: 77'39 (DDD)
Van Veen Productions, PP 2023
Recorded at Concertzaal, Middelburg

01 Opening 01:05
02 Dream Away 10:06
03 Rhytmical Interlude 04:32
04 Hang Solo 02:30
05 Piano Birds 01:48
06 On the Road 05:29
07 Good Morning! 02:05
08 Building on B Flat 07:33
09 Intermission #1 03:56
10 Pending 02:58
11 Speeding up 05:35
12 Intermission #2 01:31
13 Reaching the Ultimate 08:32
14 Intermission #3 03:00
15 Imitation 04:05
16 Muted Strings 04:07
17 Conclusion, Back Together 08:38

Jeroen van Veen, piano & Peter Elbertse, hang
All compositions made by Van Veen & Elbertse. Total length playing time: 77:39 Pianos: Steinway Concert Grands, 274
Photography: Jeroen van Veen
Produced by: Van Veen Productions
Executive Producer: Jeroen van Veen
Engineered by: Pianomania
Software: Pro Tools & Samplitude
Recording location: Zeeuwse Concertzaal, Middelburg
Recording date: February 26th, 2009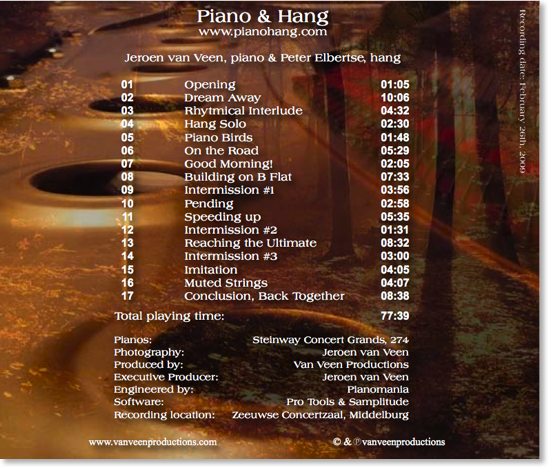 HANG The 'Hang' is a new musical instrument, which was developed in the year 2000 by 2 Swiss instrument makers (PanArt, Bern), who originally built steel drums. Its convex body consists of special hardened steel, on top of the hang there is a central domed note (called 'Ding') surrounded by a circle of either 7 or 8 tone fields. The lower half shell has a round resonant opening (called 'Gu'). The hang is primarily played with the fingers and hands, this helped to give the instrument its name: 'Hang' in the Bernese dialect means 'hand'. Peter's first 'encounter' with the Hang was in 2005 in Parc Güell in Barcelona, where an Italian street musician played this (UFO-like) instrument. After that he was eager to find out how to get this instrument himself; he plays the hang since 2006.
PIANO Bartolommeo Cristofori, a Paduan harpsichord maker, is credited with constructing the first piano, the date usually put at between 1709 and 1711. He called his new instrument "gravicembalo col piano e forte", or "harpsichord with soft and loud". In shape and general construction it resembled a harpsichord, but it differed in its action mechanism. Deer leather hammersstruck the strings, and a primitive escapement or "set off" was employed, enabling the hammer to escape from the string, rather than to block on it, thereby smothering the vibrations the hammer itself had originated. It was Sabastien Erard who produced the solution in his Repetition Actions of 1808 and 1821. Erards double escapement action of 1821. Retaining the layout of the English action, he added springs and levers, or double escapement, inducing the hammer to rebound to a point closer to the strings, remaining there until the finger either released the key completely or drove the hammer against the string a second time. Speed of repetition was improved as for a repeat blow the hammer moved only half the initial distance, and the key did not need to rise as far before again descending. The formidable array of levers and springs proved too complicated, but with later modifications, most significantly simplifications by Herz, a Parisian composer-pianist-pianomaker, it had by 1860 been taken up in one form or another by most makers, and remains the basis of the grand action to the present day. In the middle decades of the century American makers made their contribution. In the 1840's Chickering produced the earliest one-piece cast iron frame for a grand, although it was his rivals, the Steinways in New York, who took the last major steps in the development of the grand. Overstringing was the ultimate solution for the layout of the strings. Initially they all had been parallel. Then in an endeavour to make the bass strings longer without a corresponding lengthening of the upright instrument's case, the strings, bass, tenor and to a lesser degree treble, were arranged obliquely, almost fan-like across the instrument. The final answer was overstringing, tenor and treble strings running approximately parallel to the instrument's outer case, but with bass strings crossing over them, running from the front left to rear right of a grand. Then in the 1870's Theodore Steinway increased the string tension to its present figure of about 20,000kg (c.20 tons). Strings were again dealt harder blows by heavier hammers. Then the double escapement action was further modified, to make the touch weight acceptable. The grand offered abundant tonal volume combined with incredible sensibility. Besides playing on the keys, performers can also use other parts of the piano to make music. On this cd you will hear many of those relatively new sounds PETER ELBERTSE Peter Elbertse studied percussion at the 'Sweelinck Conservatorium' in Amsterdam. Currently, he is principal timpani player of the 'Dutch Philharmonic Orchestra' and the 'Dutch Chamber Orchestra'. Peter is passionately fond of everything connected with rhythm and percussion and explores possibilities for new musical trends. He organized a percussion festival for years and was closely associated as an advisor with the Foundation 'Lek Art' in Culemborg. Peter organizes or participates in the following projects (in which percussion often plays an important part): NedPho Jazz Quartet (line-up piano, vibraphone, drums and bass); Duo with Jeroen van Veen, piano and vibraphone with music of Chick Corea; Duo with Jeroen van Veen, piano and hang: lounge music & modern beats; Canto Ostinato' (in the line-up for piano's / marimba's); 'Carmina Burana' (conducted several times at extraordinary places); 'Trammelante di Percussione' (with 7 professional percussionists); 'Access to Vibes' (duo with gitarist Frans van Oostrom): an expedition through the world of dance music with influences of the classical music, jazz, disco and the latest pop music; Workshops 'Drum & Cooking' (in association with 'Kook-salon').
JEROEN VAN VEEN Jeroen van Veen (1969) started playing the piano at the age of 7. He studied at the Utrecht Conservatory with Alwin Bär and Håkon Austbö. In 1993 he passed the Performing Artists' Exam. Van Veen has played with orchestras conducted by Howard Williams (Adams), Peter Eötvös (Zimmermann) in Amsterdam, Utrecht, Vienna and Budapest and in the United States with Neal Stulberg (Mozart & Bartok) and Robert Craft (Stravinsky). He has played recitals in Austria, Belgium, Canada, England, France, Germany, Hungary, Italy, Russia & the USA. He was invited to several festivals; Reder Piano Festival (1988), Festival der Kunsten in Bad Gleichenberg (1992), Wien Modern (1993), Holland Dance Festival (1998) Lek Art Festival (1996-2009). Van Veen recorded for major Dutch Radio- and Television companies like AVRO, CBC, NOS, IKON, NCRV, TROS, WTBC-TV & Radio and Moscow Television. In 1992, Van Veen recorded his first CD with his brother Maarten as the internationally recognized Piano duo Van Veen. In 1995 Piano duo Van Veen made their debut in the United States. They were prizewinners in the prestigious 4th International Murray Dranoff Two Piano Competition in Miami, Florida. After this achievement they toured the United States and Canada many times. The documentary "Two Pianos One Passion" (nominated with an Emmy Award 1996) documents them as a duo. Beside his career as a solo pianist Van Veen also participates in the following ensembles: 'Piano Ensemble', 'The International Piano Quartet', 'Piano Mania', 'DJ Piano' and 'Jeroen van Veen & Friends'. The various compositions by Van Veen may be described as 'Minimal Music' with different faces, Crossovers to Jazz, Blues, Soundscape, Avant-Garde, Techno, Trance and Pop Music. Currently Mr. Van Veen is director of Van Veen Productions, Chairman of the Simeon ten Holt Foundation, Pianomania Foundation. He is active in the International Utrecht Student Piano Competition and the Murray Dranoff Two Piano Competition. Over the last 15 years Van Veen recorded more than 50 CDs for several labels (Mirasound, Koch, Naxos, Brilliant Classics) and his own label PIANO. Among them is a set of nine Cd's presenting the Minimal Piano Collection including his own 24 minimal preludes. www.pianohang.com - www.peterelbertse.com - www.jeroenvanveen.com If you don't have Paypal you can transfer € 20.00 to Van Veen Productions, Number 7403448. Please make a correct reference to the cd you wish and don't fortget to write the correct address including the ZIP code.

IBAN: NL 97 INGB 0007 403448 (NL97INGB0007403448) BIC/SWIFT: INGBNL2A Account #: 7403448 Account name: Van Veen Productions THOD Pianomania