ISLAND, Yann Tiersen

Composers: Yann Tiersen
Artist Jeroen van Veen piano,
Format 1 CD
Cat. number 96913
Release March 2023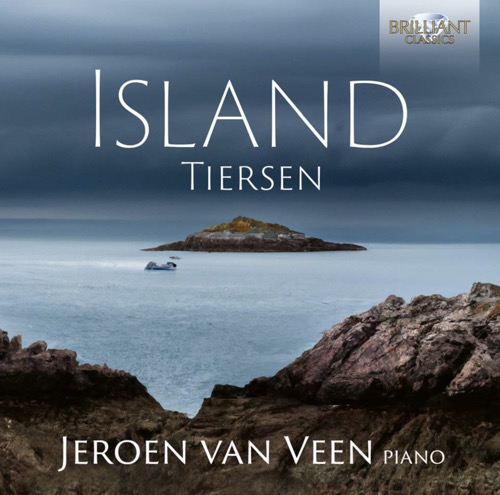 EUSA (2016) Yann Tiersen


01 Pern 04:15
02 Porz Goret 04:34
03 Lok Gweltaz 03:11
04 Penn Ar Roc'h 02:50
05 Kereon 02:31
06 Yuzin 01:28
07 Roc'h Ar Vugale 04:04
08 Penn Ar Lann 04:06
09 Enez Nein 04:11
10 Kadoran 03:04

KERBER (2021) Yann Tiersen

11 Kerlann 04:42
12 Ar Maner Kozh 04:30
13 Kerdrall 05:58
14 Ker Yegu 03:37
15 Ker Al Loch 06:07
16 Kerber 09:25
17 Poull Bojer 06:29


complete playing time disc I 75:11


Jeroen van Veen, piano



ISLAND (EUSA & KERBER)


Yann Tiersen's music ranges from French folk music and chanson to minimal, avant-garde and post-rock. Outside of his homeland, the French composer and multi-instrumentalist became known, among other things, for his film music for the Franco-German feature film 'The Fabulous World of Amélie' (2001). In 2021 he dared to take another step towards electronic music with his new album Kerber is a beautifully structured, very immersive and thoughtfully constructed electronic world, composed on the Island he currently lives; Ouessant.
The small island of Ouessant, less than 16 square kilometres in size, lies off the coast of Brittany in northwestern part of France. Apart from meadows and granite rocks, there isn't much there. Wikipedia lists "neither important bathing beaches nor outstanding tourist sights". The population is also rather small; only 877 inhabitants. But one of those residents is composer Yann Tiersen. With his albums "EUSA (2016) & Kerber (2021) he is now commemorating his adopted country. This Album Island contains seventeen solo piano pieces that the Frenchman originally only wanted to publish as a score. I combined them, since he himself mentioned Eusa as volume one. While improvising in nature, he came up with the idea for a concept album. His own release was recorded in the famous Abbey Road Studios in London. It is his first record that he only recorded on a piano. Who only knows the "Amelie" soundtrack: Tiersen is not the piano maniac that many think he is; although on every public piano his music is played mostly! The special thing about his two albums: Each of the songs refers to a specific place on Eusa, as Oeussant writes in Breton (that explains the album title).
The album title Kerber is borrowed from a chapel in a small village on the island.
The original recordings includes integrated outdoor soundscapes, nature sounds from the places described by the songs. The sound includes many specific birds that are around the Island. The pieces themselves sound like ideal for film music: easy, catchy but interesting, melancholic but hopeful. Some offer the perfect soundtrack to stare out the window and ponder on a long walk or train journey. Others seem predestined as background music to study or relax. The pieces sometimes sound dreamy and wistful, sometimes bittersweet, sometimes happily playful. With each song, you can easily imagine a scene from a movie, a breakup after a fight in a cosy café, or a nature documentary in which two baby birds open their eyes for the first time. In Eusa, the eight-part piece "Hent" (translation Path) serves as an interlude, in which Tiersen improvises very slowly and without a scheme over various chords. These improvisations haven't been published. I took the piano score (without the Hent parts) as a starting point. The result is a fresh and rather naked version of the Eusa & Kerber that I will play in public quite a bit; especially for my lie-down concerts it is a nice addition to my other existing programs. In these works you can hear the emptiness of the Island; although I've never been there, I can imagine the beauty of nature, and the music flowing; like the tide of the ocean does, with low and high tide, everyday.


Jeroen van Veen


EUSA 2016
Two years ago I was travelling through California by bicycle with my fiancée. One day we were cycling along a remote track of the Lost Coast in the middle of the Sinkyone Wilderness State Park. It wasn't an easy trip — we were alone, withno humans nearby and no noise around. After five hours of cycling we heard a sound to our left; something was moving in the undergrowth beside the path. The noises continued as we cycled on until, after half an hour, we saw a mountain lion cross the path ahead of us. This big and beautiful cat was obviously looking for lunch and had been circling us all afternoon. We cycled for hours until we eventually reached safety. Our lives changed completely after this event. On this special day on the Californian Lost Coast I was nothing more than food for a wild animal. It made me realise that where we are at any given place is integral to who we are. Our place in the world is what defines us more than anything. And it made me feel that I needed to know more deeply my own place, my own home, to discover who I am. And my home is the island of Ushant, West Brittany, in the middle of the Celtic Sea. To understand it and to discover myself I decided to draw a musical map of the island. Here is Volume One: ten piano works about ten places on Ushant with ten pictures by my fiancée.

KERBER 2021
"I think there is a similarity between the infinite big and the infinite smallness of everything", explains Yann Tiersen. "It's the same experiment looking through a microscope as it is a telescope." This exploration of the micro and the macro has permeated through much of Tiersen's career, and his new collection of work, Kerber, once again shows the vast expansiveness and intricate detail of his work. This new collection is closely connected to Ushant, the Breton island located 30 kilometres off the West coast of Brittany in the Celtic Sea that Tiersen calls home. Kerber is named after a chapel in a small village on the island and being further influenced by the close geographical area around him, each track is tied to a place mapping out the immediate landscape that surrounds Tiersen's home.

This isn't a collection about isolation, however, its more an expression of being conscious of your own direct environment and your place within it -a sonic encapsulation of the hyper— local. For Tiersen, this approach extracts the same degree of profundity as spending the evening studying the stars- which he himself does. "You can look at things that are thousands of light years away and relate your own existence to this really cosmic element," he says. "But you get that same feeling with the things all around you."
Yann Tiersen



Yann Tiersen

Yann Tiersen (1970) started learning piano at the age of four, took up violin at the age of six and received classical training at musical academies in Rennes, Nantes and Boulogne. Then, at the age of 13, he chose to alter his destiny, breaking his violin into pieces, buying a guitar and forming a rock band. Growing up in Rennes gave Tiersen the perfect musical education in the form of the city's annual Transmusicales festival, seeing a variety of acts and bands. When his own band broke up a few years later, instead of hunting for some new musicians, he bought a cheap mixing desk, an eight-track reel to reel, and started recording music solo with a synth, sampler and drum machine. As most sound guys do; they give up looking for sounds, and end up creating them. This resulted in many songs. Arround 1993 he recorded his compositions on toy piano, harpsichord, violin, accordion and mandolin. Six years later, the recordings would find a much larger audience when several tracks would be used on the soundtrack to Jean-Pierre Jeunet's film Amelie (2001). Tiersen's commercial breakthrough would come earlier, though, and off his own back. 1998's Le Phare (The Light House) was recorded in self-imposed seclusion on the isle of Ushant (located 30 kilometres off the west coast of Brittany in the Celtic Sea), where Tiersen spent two months living in a rented house. After his success with Le Phare that her composed on the Island, Tiersen also took his music out around the world, playing shows with a full orchestra and an amplified string quartet. He then went on to create scores for the likes of Wolfgang Becker's tragicomedy Good Bye Lenin! (2003) and Tabarly (2008). In 2016 Tiersen's first solo piano was released, EUSA, a move into more minimalist contemporary sounds showing the continuation of Tiersen's diversity. This album was followd by Kerber (2021), his most overtly electronic material to date. Being in isolation in Covid Pendemic, he used more electronic sounds than piano, however the pianoscore were the basics for the recording. In 2022 Tiersen continued the path from experimentation his new work 11 5 18 2 5 18. Using samples as his source, Tiersen has resampled, reprogrammed and recomposed audio to create entirely new tracks unrecognisable and decontextualised from their original versions.
Maybe Kerber was his last album with piano compositions; who knows!

www.yanntiersen.com


BIOGRAPHY

Jeroen Van Veen (1969) started playing the piano at the age of 7. He studied at the Utrecht Conservatory with Alwin Bär and Håkon Austbö. In 1993 he passed the Performing Artists' Exam. Van Veen has played with orchestras conducted by Howard Williams (Adams), Peter Eötvös (Zimmermann), Neal Stulberg (Mozart & Bartok) and Robert Craft (Stravinsky). He has played recitals in Europe, Russia, Canada & the USA. Van Veen attended master classes with Claude Helffer, Roberto Szidon, Ivan Klánsky and Leonid Hambro. He was invited to several festivals: Reder Piano Festival (1988), Festival der Kunsten in Bad Gleichenberg (1992), Wien Modern (1993), Holland Dance Festival (1998, 2010) Lek Art Festival (1996-2009). Van Veen recorded for major Radio- and Television companies. In 1992, Van Veen recorded his first CD as Piano duo Van Veen. In 1995 Piano duo Van Veen made their debut in the United States. They were prizewinners in the prestigious 4th International Murray Dranoff Two Piano Competition in Miami, Florida. After this achievement they toured the United States and Canada many times. The documentary "Two Pianos One Passion" (nominated with an Emmy Award 1996) portrays them as a duo. In 2016 Van Veen was awarded with the NPO Radio 4 2016 Award, for his efforts and promotion of classical music beyond the concert halls. His lay-down (ligconcert) concerts were praised as an example how classical music can attract new audiences.
The various compositions by Van Veen may be described as Minimal Music with different faces, Crossovers to Jazz, Blues, Soundscape, Avant-Garde, Techno, Trance and Pop Music. His Minimal Preludes for piano, and his NLXL are some of his most played pieces worldwide. His latest Minimal Piano Concerto Continuum was a great success. In 2015 he premiered his Incanto nr 2 in the Amsterdam Concertgebouw with Sandra van Veen. His minimal preludes are being performed worldwide and currently Van Veen is working on Book VII and VIII (numbers 80 -110). His last composition, Dutch Delight for carillon, was commissioned by 42 comunitties that were connected to the birth of the Netherlands in 1572.
Currently Mr. Van Veen is director of Van Veen Productions, Chairman of the Simeon ten Holt Foundation, Pianomania Foundation and artistic director of several music festivals. He is also active as Overseas Artistic Director in the Murray Dranoff Two Piano Competition based in Miami. Over the last 25 years Van Veen recorded more than 200 CD's and 5 DVD's, mostly for Brilliant Classics. His dicography includes Adams, Einaudi, Glass, Gurdjeff-de Hartmann, JacobTV, Minimal Piano Collections, Nietzsche, Nyman, Pärt, Reich, Riley, Satie, Sakamoto, Stravinsky, Tiersen, Ten Holt, Van Veen, Yiruma and many others. Van Veen is also praised for his productivity some say, 'the man who records faster than his shadow'.


"Dutch pianist and composer, Jeroen van Veen, the leading exponent of minimalism today", Alan Swanson (Fanfare)
"Jeroen van Veen has for many years been a powerhouse in the piano world of the Netherlands and beyond", Dominy Clements (Musicweb-International)
"The Maximal Minimalist Missionary", Raymond Tuttle (Fanfare)

www.jeroenvanveen.com





DDD
Microfoons: DPA 4006A
Piano: Yamaha Grand Piano C7, serial number 6241106
Pianotuner: Hans-Jozef Zimmer
Produced by: Van Veen Productions for Brilliant Classics
Photo Jeroen van Veen: Joeri van Veen
Cover photo: Jeroen van Veen, mixed media
Liner Notes: Jeroen van Veen
Publishers: Chester & Hal Leonard
Executive Producer: Jeroen van Veen Recording and Mastering: Pianomania
Software: Pro Tools, Logic & Sequoia
Recordings: June 22nd & 23rd, 2022, Studio IV, Stefflen, DE

CD No: 96913
EAN Code: 5028421969138

Sheetmusic available:
EUSA
https://www.stretta-music.com/tiersen-eusa-nr-655711.html
KERBER
https://www.stretta-music.com/tiersen-kerber-nr-817597.html